Why solar power-saving air-conditioning…
First, it uses a majority of solar energy, Secondly, it adopts to a highly efficient heat transfer system. Solar collectors / heat absorbers collect a certain amount of solar energy for air conditioning to work as a energy supplement offering an effective distribution system and greatly reducing compressor Energy loss; intelligent controlling of the solar air-conditioning system can automatically guarantee solar collection as part of the normal energy supply.

Secondly, the use of a thread, hydrophilic aluminum foil, for the heat transfer system optimization match, reducing energy loss improving overall efficiency and effectively guaranteed results. Therefore, solar air-conditioning is much more convenient than regular air-conditioning saving you allot of energy usage.

Finally, our solar air-conditioning technology according to the actual social situation, introduce a more cost-effective solution to air-conditioning, affordable, energy-efficiency far more then regular air-conditioning units.
SplitCool DC18
Solar Powered Direct Current
Air-Conditioner / Heat Pump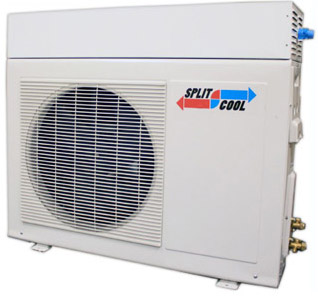 One reason that all-DC Air Conditioners make the best use of solar power is because there are no losses associated with converting DC power from the solar panels into AC power to run a standard air conditioner. Using standard solar panels which produce native DC power, the SplitCool DC18 DC air conditioner avoids the inefficient addition of an "inverter" that converts solar DC current into AC current. Plus, the SPP brushless permanent magnet motor with digital frequency controller provides for a variable frequency drive that allows the system to dynamically adjust its capacity based on conditions.
Daytime and Night Time Operation
Optimized for Solar Air Conditioning
Uses Standard Deep-Cycle Batteries
Works with Standard PV Panels
18000 BTU Capacity
Variable Capacity BLDC Compressor
ALL-DC No Inverter
Hi-SEER DC Heat Pump
Xantrex™ Backup Systems
Your benefits:
Supply of energy to your critical loads in the event of a power outage


Complete system solution using modular components


All system components are networked amongst each other reducing cabling


Expandable: easy to add on additional units as your power demands increase


Unprecedented surge capacity to start difficult loads
Did you know that power consumption grows at a rate exceeding the production capacity of power companies and for this reason major outages are becoming more frequent?

Have you stopped to think about:
The impact of a power outage on your life?
How it would feel to miss your favorite team score the winning goal?
The financial impact of being without electricity for an hour?
Europeans are growing more and more dependent on electricity, both at home and in the work place. A sudden power outage can be frustrating and troublesome as well as cause unwanted financial losses.

With a Xantrex inverter/charger you can easily protect critical electrical loads in your home or business such as computers, lights, refrigerators and alarm systems.

A Xantrex inverter/charger uses electricity from the utility grid or alternative energy source to charge and maintain a battery bank which remains ready to be used in the case of a grid failure. When power is restored, the inverter/charger will automatically recharge the batteries.


Xantrex™ inverter/chargers offer an efficient solution in the event of a grid connection interruption.

By using a Xantrex XW Inverter/Charger and a Gel battery bank (sealed battery, suitable for enclosed installations) with a total capacity of 300 Ah, you can keep appliances running for approximately 8 hours.
Xantrex™ Off-Grid Systems
Your benefits:
Stand alone systems from 1.5kW to 36kW


Dual AC inputs with integrated transfer switch < 8ms transfer time


Expandable: easy to add on additional units as your power demands increase


Efficient, power factor corrected, high-current, multistage battery charging minimizes charging time while increasing AC passthrough capaciy
A Xantrex inverter/charger can also be used to + get power to remote areas where the the grid is not accessible.

Xantrex inverter/chargers are the main components of off-grid systems. Depending on customer needs, an off-grid installation can consist of PV modules, wind turbines, hydro systems or a combination of all of these. A backup power system provides continuous power to run all the appliances connected to the system.

The configuration of your system will depend on the type of electrical loads that will be connected to it and also on the total power consumption of these loads. With a Xantrex XW Inverter/Charger you will be able to add extra units as your power demands rise thanks to its plug and play expandable system.

Your off-grid installation can be set up in a single or three-phase configuration. Dual AC inputs allow flexible and adaptable installation to suit many customer location requirements.

By using a Xantrex™ inverter/charger you will be able to get electricity even in areas where there is no grid connectivity.
Xantrex™ Off-Grid and Backup Products
Inverters & Inverter/Chargers:
Xantrex XW Hybrid Inverter/Charger

| | |
| --- | --- |
| * | True sine-wave output |
| * | Single phase (230V) and three phase (400/230V) configurations possible |
| * | Dual AC inputs |
| * | Several units can be connected in parallel |
| * | Efficient power factor corrected, high-current, multi-stage battery charging |
Xantrex Trace Series Inverter/Charger

| | |
| --- | --- |
| * | Better thermal performance allows full output power 50°C(122°F) without de-rating |
| * | Durable power coated, corrosion resistant steel chasis |
| * | New power factor corrected (PFC) charging |
| * | High surge capacity starts more difficult loads and handles overload conditions reliably |
| | |
Xantrex Prosine Inverter

| | |
| --- | --- |
| * | Suitable for both heavy duty and sensitive loads |
| * | Use high switching technology in the power conversion process |
| * | Less than 3% total harmonic distortion |
| * | Unique DC terminals offer 180-degree connections for easy installation in tight places |
| * | Efficient power save mode draws only 1,5W under no load condition |
Battery Charger:
Xantrex Trucharge™2 Battery Charger

| | |
| --- | --- |
| * | Microprocessor-controlled, multi-stage charging algorithms |
| * | Settings for two and three-stage charging |
| * | Auto-ranging universal input voltage is also compatible with a generator or other low-quality power sources |
| * | Temperature-compensated charging |
| * | Power factor corrected for efficient charging |
Charge Controllers:
Xantrex XW MPPT Charge Controller

| | |
| --- | --- |
| * | Maximum Power Point Tracking (MPPT) deliver maximum available power for PV array to battery bank |
| * | Integrated PV ground-faulted protection |
| * | Convection-cooled design – does not require a cooling fan |
| * | Selectable two or three-stage charging algorithms |
| * | Up to 30% more PV then PWM charge controllers |
Xantrex C Series and C12 Charge Controllers

| | |
| --- | --- |
| * | Silent, pulse width modulated microprocessor control (maximizing battery life) |
| * | Field adjustable voltage and battery type set points |
| * | Electronic protection against short-circuit, overload, over temperature, and reverse polarity conditions |
| | |
| | |
Accessories:
Xantrex XW Automatic Generator Start

| | |
| --- | --- |
| * | Automatically activates a generator to provide an XW Series Hybrid Inverter/Charger with power to recharge a depleted battery bank or provide additional power for heavy loads |
| | |
| | |
| | |
| | |
Xantrex XW System Control Panel

| | |
| --- | --- |
| * | Gives a single point of control to setup and monitor an entire system, which may consist of multiple XW Inverter/Chargers, XW MPPT Solar Charge Controllers and other components |
| | |
| | |
| | |
| | |
Xantrex Communications Gateway

| | |
| --- | --- |
| * | Can monitor a network consisting of up to 20 single phase GT inverters or up to 8 XW devices (XW Inverter/Charger(s), XW Charge Controller(s), XW SCP, and XW AGS) |
| * | Wi-Fi/Ethernet module with 10/100 Base-T or 802.11 b/g |
| * | Can be configured to send energy and alarm reports via email |
| * | Graphical interactive solar monitoring software |
| | |
Service Air Systems
Tampa Bay
cities of
Clearwater, Largo, St. Petersburg,
Pinellas County, Florida
including surrounding areas
(727) 642-8545